Remember the TOMS craze? It seemed like there was a time period when I lived in Miami that there was a pair on almost everyone's feet. From toddlers to soccer moms to hipsters they were just EVERYWHERE! I wondered at the time if the reason for the fashion wild fire was the message of social consciousness, (for every pair purchased they gave a pair to a needy child) or truly the style? Or was it perhaps that TOMS seemed to be the cheapest shoe available for purchase at Nordstroms? Whatever the case, taking a page out of the TOMS playbook,
Skechers
has now come out with a line of shoes called
BOBS
.
The acronym BOBS stands for Benefiting Others By Shoes. Skechers has vowed to donate a pair of shoes for every pair purchased to Souls4Shoes.
This organization will d

istribute BOBS unisex children's shoes to communities and organizations in need throughout the United States and as needed for international disaster relief and crisis situations. To date Skechers has donated over 3 million pairs of shoes. While the message and choice of charity is not unique, I think it is very admirable when any company sets up their business plan in such a way that it benefits the community at large.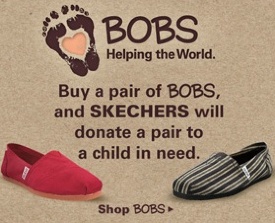 For the sake of full disclosure I do not buy shoes based on what companies are socially conscious My Father, a card carrying Republican, who tried to teach me not to eat Ben and Jerry's (huge democrats) would not a appreciate this. He indeed believes if you stand for nothing you will fall for everything! I am a woman though, I buy shoes based on looks and comfort alone. I assure you that my shoe choice NEVER has anything to do with politics or goodwill. While I applaud BOBS and Skechers for doing the right thing from a social standpoint, I must admit that "goodwill" marketing alone would not drive me to buy these shoes.
So lets talk about the style and quality of BOBS. The good news here is that there are a few styles to choose from. The standard TOM-esque shoe closed toe shoe (No that's not a technical term) is available as well as
moccasins, boat shoes,
and ballerinas. I am pretty sure there is something for everyone in this collection. From teenager, to hippy, to modern mama the wide variety of styles is great.
I received the Women's Bobs Care Free in Gold. I chose them because they looked comfy, were a nice light gold color, and had some character to them.
When I received the
moccasins, at first
I was really happy with the quality and feel of them. I thought that they would be the perfect throw on and run to the
grocery
store. "Mom shoes", if you will. What I did not count on with these shoes was that they would fall apart within the first hour of wear. Yes, my Bobs
moccasins
fell apart at the playground as I gently walked around supervising my boy playing. To Skechers credit, they kindly sent me another set of shoes, The Go Run Bionic.
When I received my Go Run Bionics I was amazed at how light they were. At an average weight of only 5.8 oz (for a womens size 7) these are some seriously feather light shoes. My first thought was how wonderful these shoes would be for traveling. More than once I have had to empty the contents of my suitcase into a carry-on because of overweight luggage (which is so annoying). I think tennis shoes are often one of the heavier items in my suitcase. I look forward to taking the Go Run Bionics with me on my next trip and therefore lightening my load.
When you read reviews of Go Run Bionics they are often favored by people that prefer as little of a shoe as possible. It seems that those who prefer this shoe are those that are seeking a shoe with very little structure or weight to it. For my $80 dollars though, I personally would prefer to have more support and padding. I understand that support and padding are a tradeoff with the weight of the shoe and therefore this is a choice based on personal preference.
If you would like a chance to win a pair of women's BOBS please enter the rafflecopter below.
Disclosure: I was provided complimentary products for review in order to properly write this post. All opinions are 100% my own. I am disclosing this in accordance with FTC regulations.